---
Gold medal for Cuatro Pasos in CINVE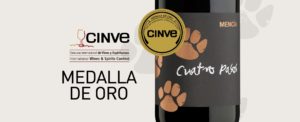 March starts with great news ! Cuatro Pasos, our mencía with a short ageing in wood barrels, has been awarded with a Gold Medal in the 13th edition of the Spirits and Wines International Competition, CINVE.
 The jury for this contest, which has officially been certified by the Ministry of Agriculture, Food and Environment, consisted of members from ten countries and was led by the wine expert María Isabel Mijares. They were the ones in charge of accomplishing the difficult task of tasting more than 600 samples of wine, not only from Spain, but also from other countries such as Argentina, Australia, Chile, the United States or France. 
 Despite the strong competition, the new vintage of Cuatro Pasos, the 2015 one, has conquered the jury who awarded the quality of our mencía with a high score, worthy of the gold medal.
You will find this vintage on the market very soon, so we highly recommend you to take the chance of getting carried away by this wine which is at the level of the greatest ones.