---
A rosé wine production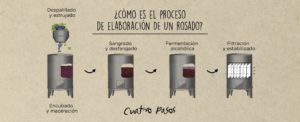 Some people think that rosé is a low quality wine which is commonly discredited, but there is nothing further from the truth.
Fortunately, the consumer is starting to value these type of wines, which production is probably one of the most complicated. We are talking about one of the wines which enology departments find the hardest, and that is why we wanted to dedicate today's post to rosé wines and their production.
Firstly we have to clarify that the production is very similar to the white wines one, but it is made with red varieties musts. According to each denomination legislation, it will also be able to include white varieties musts.
Besides, there are two types of rosé wine : the one resulting from the pressing and the one resulting from the draining.
So the process would begin for both types the same way : after receiving the grapes in the winery during the harvest, the destemming and grinding would begin. For the first type of rosé, the following step would be the pressing which is the action of pressing the grapes to obtain the must. For the second type, after the grinding, instead of pressing the grapes, we would deposit the resulted paste in a tank (vatting) to then, macerate the must with the skin and pulps of the grape. Once the maceration is over, the draining would take place, which is a technique that extracts the must by gravity instead of pressing the paste.
When the must is ready both types of rosé share the same production process again.
The next stage would be the settling in order to have the must as clean as possible, and then, the start of the alcoholic fermentation.
Once the fermentation is over, we proceed to the clarification, stabilization, and filtration, and finally, the bottling. 
Ready to drink!
In our case, for our rosé Cuatro Pasos, we choose the fresher mencía grape which comes from vineyards with low sun influence, low stress and harvested a little before the red wines to mantain the acidity. Besides, we put it through an aging on lees to gain in greasiness and aromatic complexity.
Fancy, right ?