---
Tai Chi day in Cuatro Pasos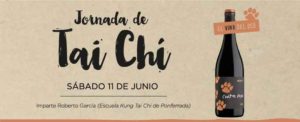 Mens sana in corpore sano in Bodegas Cuatro Pasos.
We combine tai chi and wine next Saturday 11th of June.
It is not the first time we put our facilities at the disposal of the body and mind care. We have already held different yoga conferences with very good reception.
Now, we are testing a new discipline which aims to return to a balanced, relaxed and healthy state, both mental and physically : tai chi.
Next Saturday 11th of June, starting at 17.00h, we will hold a tai chi day for 30 people in our winery, given by Roberto García, which is a Ponferrada's Kung Tai chi School instructor who has more than 30 years of experience.
After the class, if you stay with us, you will also be able to know a bit more about the winery's background as well as a Mencía's wine production process. Finally, we will organise a commented tasting with our enology team, of two of our wines which will pair with the chocolates of the master chocolatier Jacinto Peñín.
The activity is free and to register you have to contact the winery calling 987 548089 since the capacity crowd is limited.
Because of this visit characteristics, we advise you to bring comfortable clothes and the suitable equipment to practice this type of exercise.
An activity which combines the best part of enotourism with this discipline which already has countless folllowers. An original new way and place to practice this activity which will, without a doubt, activate all your senses. We are waiting for you !
About the T'ai-Chi-Ch'uan or tai chi discipline.
The T'ai-Chi-Ch'uan, best known as tai chi, is a martial art with therapeutic use. A millennial culture born from the nature and animals movements.
This discipline practice starts by teaching us how to relax, to then give way to know how the slow and studied movement of our bodies help us activate our health. According to the taoist teachings, mind and body can't be separated, that is why Tai Chi Chen is considered an integral training method for mind and body as well as a sofisticated martial art where the low positions stand out and because the martial work is more obvious than it is in other martial art styles, using a sash or what they call « externalization of the energy ». It combines slow and short movements with energy bursts and the movements are commonly done at high speed.
Each step is meant to help the mind going back to calm, clarity and wisdom, and the body to return to a balanced, relaxed and healthy state, since it simultaneously makes the position, relaxation, breathing, flexibility, strength, balance, coordination and focus work together. Besides, its practice can be realised and enjoyed by people of all ages and constitutions.
About Roberto García, the instructor. 
Roberto García is a Tai chi instructor in the Ponferrada's Kung Tai chi School located in the Atlas gym. Even if he has spent more tan 30 years practicing Tai chi, he started in 1999 with Master Chen Sheng Yu, direct student of Master Hong Jun Seng from the Chen Fake line. As the excellent student he was, he knew how to show his knowledge and great experience in the matter through Spain, participating in important events related to this discipline, where he offered first level exhibitions. He is a regular collaborator with the tai chi school of Huesca, among other schools, and he also realised different exhibitions at the Annual Tai Chi Gatherings which take place in Madrid, in addition to the different courses he gives in our region.