---
Diamond for Cuatro Pasos Black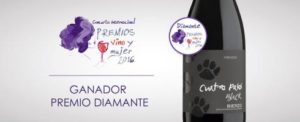 The year have begun really well! Not only our Cuatro Pasos wins accolades but also our Cuatro Pasos Black. Once again, it is supported by wine critics.
Our oak-fermented mencía has been awarded the credential Diamond by the jury of the Wine and Women Awards. This recognition supports the quality of Cuatro Pasos Black, as other Spanish wine guides did – the Wine Guide of La Semana Vitivinícola Magazine 93 points, Peñín 92 points, and Gourmets Guide 90 points.
Let's celebrate this award! A total of 200 wines from 20 Appellations of Origin and 6 countries have been submitted in this edition of the Wine and Women Awards. All the wines have been made by wineries where women play a key role. This requirement makes this competition to be the unique one in the world which recognize the women role in the wine industry.
According to this requirement, the jury is composed exclusively of women -a total of 20 tasters – with a wide experience in the wine business and other competitions.
But this is not a wine exclusive for women. Everybody enjoys it!
#4pasosvinodeloso