---
European Wine Tourism Day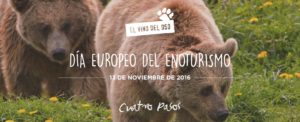 Wine and cheese pairings in the European Wine Tourism
And wine and nuts desserts pairings
On the ocassion of the European Wine Tourism Day, a wine and cheese pairing will be hold next Monday, 8th November in Cuatro Pasos Winery. Seating is limited to 18 people.
Join us to enjoy this event with a winery tour, a pairing of four wines with four different local cheeses, directed by our winemakers and a member of Veigadarte company. And a final surprise!
The tasting will be hold from 12 pm. Contact us in the phone number 987.548.089 or e-mail us at Sheila.carballo@martincodax.com. Deadline is 7th November seating limited.
See you on Sunday!