---
Pizarras de Otero, Best Young Red Wine in Champions Wines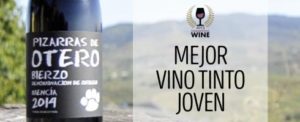 About to finish the year and good news are coming.
Pizarras de Otero, our Young Mencía, has been named Best Young Red Wine in the Champions Wines Competition. It was the only winner in this category and named by a jury directed by Ernesto Gallud and composed of twenty Spanish tasters and other three coming from US, China, and Indonesia.
This is the first edition of this competition and it arises to enhance those wines that have been previously awarded by other competitions and wine guides with Gold, Great Gold and other high accolades. Champions Wines wants to have real competition of the best wines and to be tasted by the most exigent jury to ensure they are the very best wines in Spain.
And Pizarras de Otero got it!